https://tucson.com/sports/arizonawildcats/basketball/university-of-arizona-s-adaptive-athletics-program-wows-gov-doug/%20article_8ab29d5d-7105-51fc-a980-b9865649852e.amp.html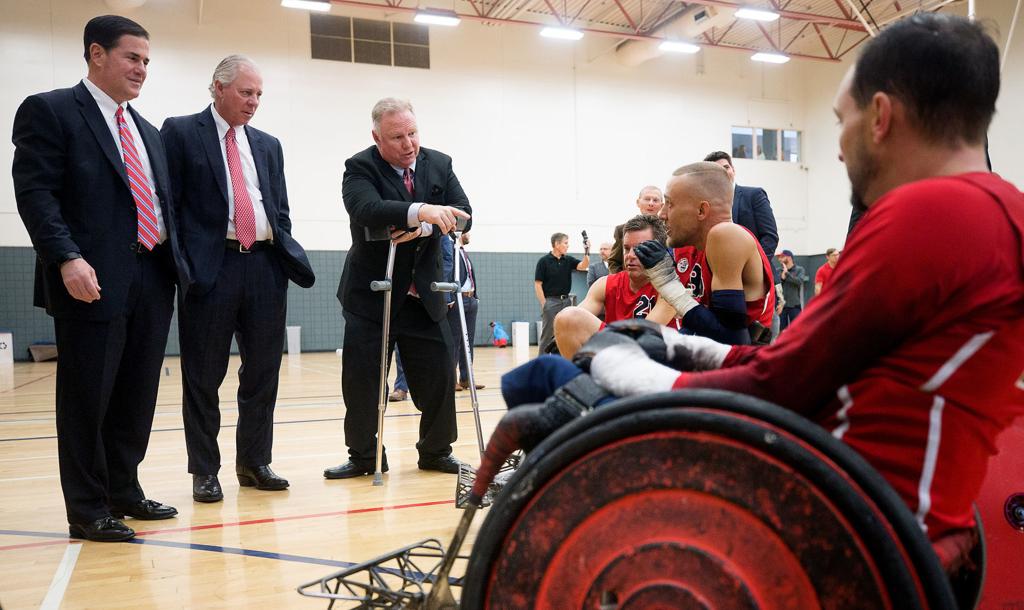 Gov. Doug Ducey stood near the sideline of a basketball court inside the UA's Campus Rec Center, scanned the athletes and facilities around him, and practically cheered.
"I've been doing this for five years … and this is the first I've seen any of this," Ducey told UA president Robert C. Robbins, one of the half-dozen power brokers who gathered Tuesday for a tour and dedication.
Tuesday was a day to impress for the UA's nationally renowned adaptive athletics program. Organizers took Ducey, Robbins and a cadre of dignitaries, including Tucson auto dealer Jim Click and former UA president Peter Likins, on a tour of the UA's sparkling Disability Resource Center. Then they watched the Wildcats' nationally acclaimed wheelchair basketball and wheelchair rugby teams compete inside the rec center before dedicating a new adaptive golf simulator upstairs.
Ducey, making his 68th trip to Southern Arizona as governor, called it "my most memorable visit to the UA."
"I'm proud that Arizona's leading as an adaptive athletics system," Ducey said, wearing a red and blue striped tie that could have come from Sean Miller's sideline collection. (For those who care about such things, the governor holds a bachelor's degree in finance from Arizona State University, but in 2006 was named Entrepreneurial Fellow at the UA's Eller College of Management).
The praise was mutual. Tuesday's event doubled as a thank you to state lawmakers, who appropriated $160,000 to the Arizona Board of Regents in the 2020 budget earmarked for the state's adaptive athletics programs.
Since the UA is the only in-state school to offer adaptive athletics, it will receive the full sum. Money will be spent on scholarships, uniforms and transportation, giving financial firepower to a program that's long been considered among the nation's best. The Disability Resource Center includes a "Wall of Paralympians" that showcases the 38 current and former UA athletes and coaches who have represented the United States. Six Paralympians are currently on campus as players or coaches.
Arizona's teams are particularly impressive. The Wildcats' wheelchair rugby team practiced Tuesday under a pair of banners commemorating their 2018 and 2019 USQRA national titles. The wheelchair basketball team played for more than an hour, producing highlight-reel plays when Ducey, Robbins, Click and crew arrived. Arizona's women won national championships in 2012 and 2014 with Peter Hughes, the UA's current director of adaptive athletics, in charge.
In all, 50 UA students take part in adaptive athletics annually, with the program also featuring students from Pima College and members of the Tucson community.
Those who participate in the adaptive athletics program are better suited to life after college, Hughes said. Research shows that nationally, people who use wheelchairs have an 18% employment rate. Among those who have a college education and play adaptive athletics, the employment rate rises to 53%.
"These are true champions in each sense of the word," Ducey said.
The one-time allotment from the Legislature came with some minor strings attached. The adaptive athletics program had to prove that it could match the funds, receiving only as much as it could match up to $160,000. An endowment from Click allows the adaptive athletics program to draw down $40,000 annually, and the Jim Click Run N' Roll — a longtime fundraiser scheduled this year for Oct. 6 — brings in an additional $90,000 per year.
The UA's wheelchair basketball team plays before the Red-Blue Game every year, receiving between $8,000-$12,000 from the Wildcats' athletic department.
There are other private donations, too, and additional gifts that might not show up on the balance sheet.
The UA's new state-of-the-art golf simulator was built by TeeItUp Enterprises at a significant discount.
Hughes met TeeItUp's managing partner, Jon Moore, on a flight five years ago. When Moore's son lost his vision following brain surgery, the golf simulator boss reached out to Hughes and asked how he could help the UA's cause.
The result: a new simulator located inside a former racquetball court at the rec center. It's mobile, and can be rented out as a separate source of revenue.
As a result, "thanks to Pete Likins and Dr. Robbins, this university probably has more outreach for people with disabilities than any university in the United States of America" Click said. "This university welcomes everybody."
The next step, UA officials agree, is to find in-state competition.
"We want our own Territorial Cup," Hughes said to the governor. "We want to take them down."