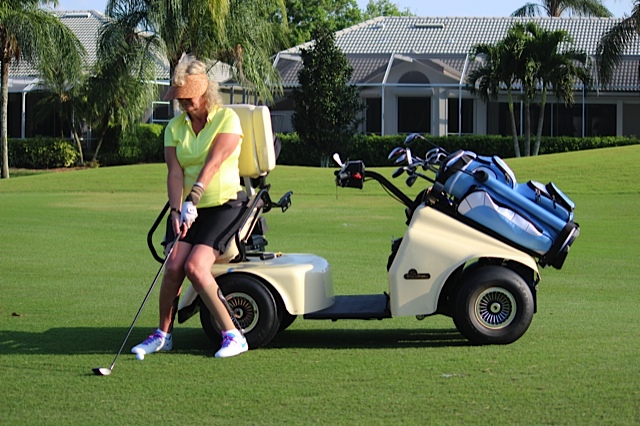 TIU is proud to announce our appointment as the sole SoloRider distributor in the US. We offer all SoloRider products, accessories, and service to existing users and those who want the freedom from restrictions that the SoloRider provides. You can see a listing of our SoloRider products in our webstore here.
Also new for 2021 is our initiative, through our subsidiary TIU4ALL, to make factory refurbished SoloRiders available for select benefit auctions in conjunction with adaptive golf events and benefits in which we are running the events. We will have active auctions being conducted on our online portal as well as live auctions (when restrictions permit) at benefit events.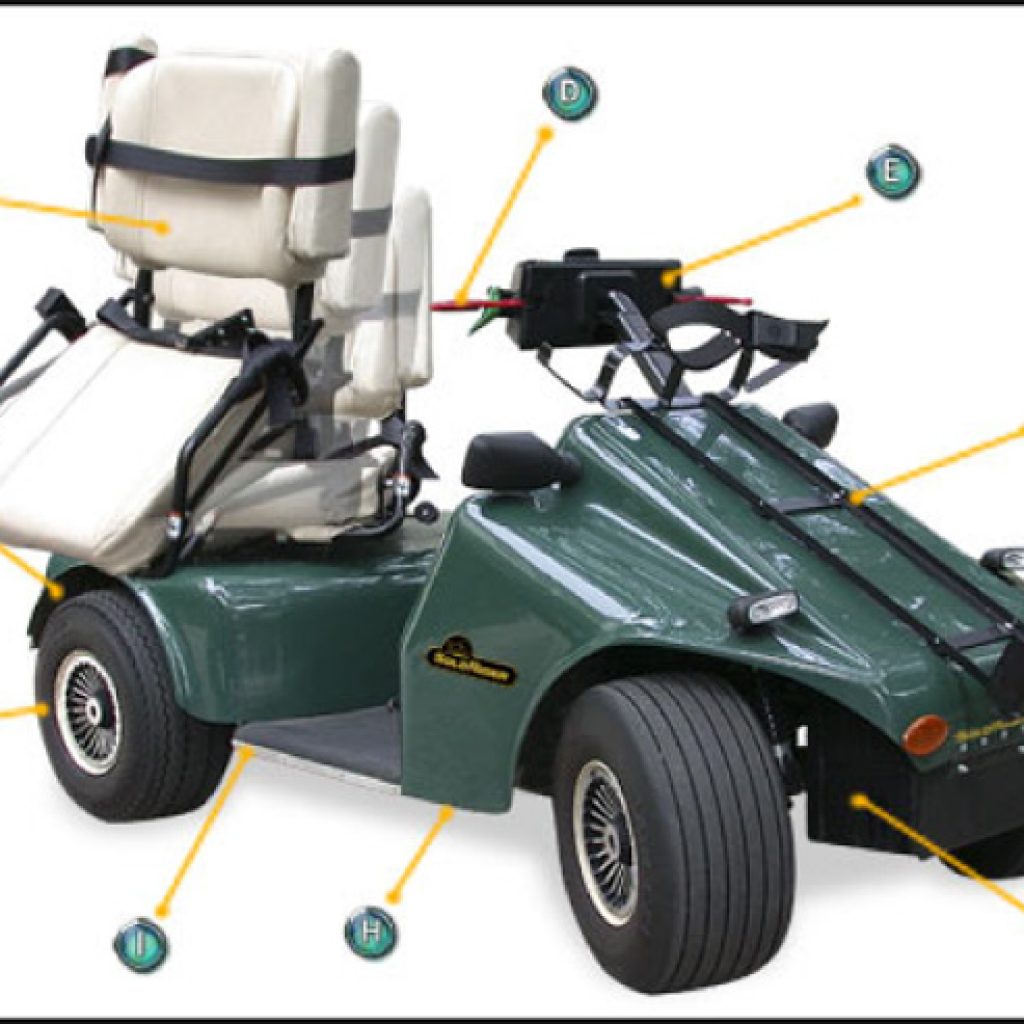 A. Specially selected 18×8.5-8 turf-friendly tires
Gentle on the sensitive grass of greens and tees
Tough enough to handle curbs and rough terrain
B. Custom designed suspension with four-corner coil-over shocks
On uneven terrain, the swing arm suspension allows wheels to move in response to terrain, not side to side
Wheels sit square to the ground
Maintains ideal control in demanding terrain situations by keeping wheels on the ground for traction and stability
C. Patented swivel seat with electric stand-up mechanism
Enjoy ease of entry and exit with the 230 degree swivel seat
Elevate to a hitting position with the touch of a button
Pick from the various seat and chest belt combinations
D. Bi-lateral ergonomic hand controls for steering, acceleration and braking
Easy to reach accelerator and braking levers
No steering wheel or foot pedals
Effectively operate the car with one hand
E. Console-mounted diagnostic display for constant feedback on vehicle operations
Monitor battery levels while playing
Early-warning lights alert you to seek maintenance
F. Precision-engineered drive train featuring an efficient 12.4/1 transaxle.
Similar components to traditional golf cars
Italian-made transaxle features world-class quality
3-year limited warranty on Drive Train
G. Three high-performance 12 volt EV145 deep-cycle industrial batteries
Top-level batteries provide unprecedented endurance
Easy maintenance charger included with every car
H. State of the art four quadrant regenerative braking system
When accelerator is released, gentle braking automatically occurs
Regenerative braking eliminates the worry of runaway car
I. Rugged twin-spar frame for superior torsional rigidity
Feel confident with the structural integrity of the frame
5 year limited warranty on all frames
To check out our retail/commercial financing on this item, click here