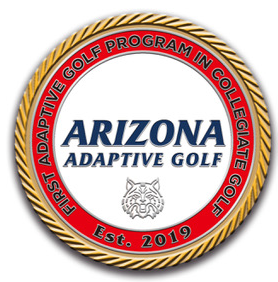 TIU4ALL and the UArizona Adaptive Golf program are proud to announce that both Kevin Holland and Norma Trujillo have joined our community golf programs with the intent of qualifying for our competitive team in the near future. Both Kevin and Norma personify the goals of TIU4ALL in building the most competitive collegiate and community program in the US today. Here's a little info on our two newest members:
Norma Trujillo
My name is Norma Trujillo and I am a mother of 3 and an artist. I am also certificated as a lead advocate for the state of Arizona, with a peer visitor certificate. I am a bilateral above the knee amputee, with a fused neck, an incomplete spinal cord and 3rd degree burns. After four years, I have come across the sport of golf and have fallen in love with everything golf!
When am not playing, I create some art pieces, hang out with my kids and husband, and I work with local leaders to advocate for disability awareness. Additional interests include: hand cycling, community walking with other amputees and participating in virtual support meetings.
The latest news on Norma is that she had a major interview on ABC that will air on Sunday May 9. Here's the link:
We can't begin to tell you how proud TIU4ALL and the UArizona Adaptive Golf team is to have this brave woman in our program….she's an inspiration, she's a competitor, and most importantly, she is FEARLESS!!! Norma will develop into a great golfer, sooner than you will believe!!!
Kevin Holland
Born December 24 1982 Born from birth with cerebral palsy Playing in my 4th season on the us amateur tour in 2020 I had 3 tournament wins and won the points race for my flight . Took 3rd in the 2019 usdga international tournament . Also in 2019 the mwaga all disabled open second place in wr4dg . 2019 in the usdga for division three champ .